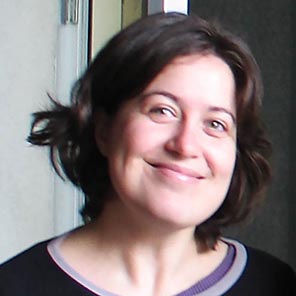 About Me
I am an enthusiastic agronomist and scientist. I currently collaborate with research centers (Irstea-Montpellier) and Universities (Universidad Politécnica de Madrid, Universidad Pública de Navarra and Montpellier-SupAgro), also working with the Socio Cultural association Les Petits Debrouillards for the promotion and divulgation of scientific culture and values.
I am specialized in data analysis and interpretation for agricultural research, particularly for the assessment of plant physiological processes (fruit ripening and plant water stress), phenotyping and precision agriculture. As a data analyst, I have a broad knowledge in multivariate modelling methods (chemometrics), being specially devoted to NIR spectroscopy and hyperspectral imaging, sampling, model robustness, and spatio-temporal models for precision agriculture.
Testimonials
Wisdom begins in wonder.

Socrates (470/469 - 399 BC)

Si tu diffères de moi mon frère, loin de me léser, tu m'enrichis.
He who is different from me does not impoverish me, he enriches me.

Antoine de St Exupéry (1900 - 1944)

We are drowning in information but starved for knowledge.

John Naisbitt (1929)

If you can't explain it simply, you don't understand it well enough.

Albert Einstein (1879 - 1955)

The greatest enemy of knowledge is not ignorance; it is the illusion of knowledge.

Stephen Hawking (1942-)
Research
Areas of Research
Agronomy, Chemometrics, Viticulture, Spectroscopy, Precision Agriculture, Postharvest, Quality Assessment, Image Analysis (spectral and colour)
Research Interests
My research interests are interdisciplinary and comprise the application of Multivariate data analyses (chemometrics) to agronomical sciences.
Some pertinent examples of my work are: the adaptation of sampling methods to the calibration of spatial models in precision viticulture, (see references SC.6, SC 9, CP.19 on the publications list); the assessment and improvement of NIR model robustness for plant breeding purposes (SC.10, CP.23, CP.24, CP. 25); the development of multispectral indexes for spectral imaging (CP. 21, SC.3, SC.8); and the use UAV-based thermal imagery to monitor instantaneous variations in water status within a vineyard (SC. 11). Throughout these studies I used two kinds of data analyses: chemometrics (SC1. to SC.5, SC.7, SC.8, SC.10); and combinations of chemometrics and geostatistics (SC.6 , SC.9, SC. 11).
Scientific Partners
These lines of research resulted from the collaboration between the COMIC team at Irstea-Montpellier, specialized in spectroscopy, optic sensors and chemometrical methods; and several agronomical institutions, involved in plant physiology (EMR), crop modelling for viticulture (Montpellier SupAgro , INRA-Peach Rouge and Universidad Pública de Navarra), post-harvest and advanced agri-food technologies (LPF-TAGRALIA, Universidad Politécnica de Madrid), and the sugar beet sector (Institut Technique de la Betterave).
Current Research
I am currently working on the application of geostatiscal methods, commonly used in precision agriculture, to evaluate model estimations of beet roots sugar content distribution obtained from hyperspectral images (CP. 25), merging chemometrics and precision agriculture tools.
Check Out Some of My Works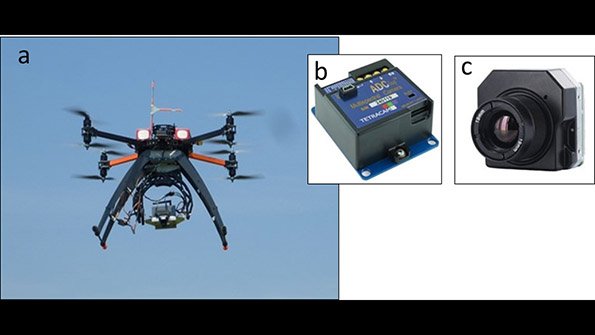 SC.11_Viticulture: High-resolution UAV-based thermal imaging (drones)
Santesteban L.G., Di Gennaro S. F., Herrero-Langreo A., Miranda C., Royo J.B., Matese A. (2016) High-resolution UAV-based thermal imaging to estimate the instantaneous and seasonal variability of plant water status within a vineyard. Agricultural Water Management. 10.1016/j.agwat.2016.08.026.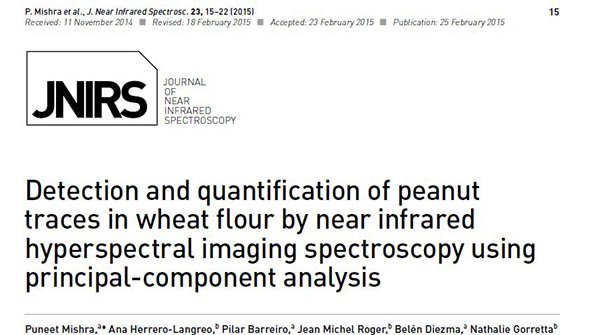 SC.7_Food Contamination: NIR Imaging for the Detection of Allergens
Mishra P., Herrero-Langreo A., Barreiro P., Roger J. M., Diezma B., Gorretta N., Lleó L. (2015). Detection and Quantification of Peanut Traces in Wheat Flour through NIR Hyperspectral Imaging Spectroscopy Using Principal Component Analysis. Journal of Near Infrared Spectroscopy, 23, 0-0. 10.1255/jnirs.1141.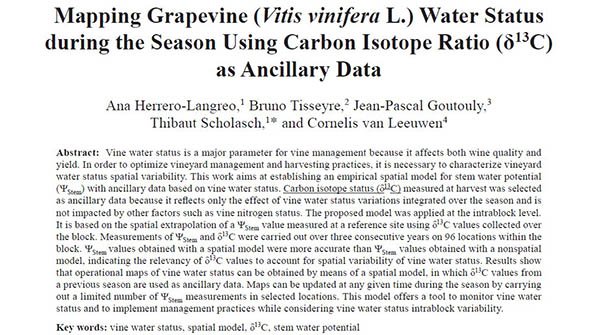 SC.6_Viticulture: Spatio-temporal Models
Herrero-Langreo A., Tisseyre B., Goutouly J.P., Scholasch T., Van Leeuwen C. Mapping Grapevine (Vitis vinifera L.) Water Status during the Season Using Carbon Isotope Ratio (δ13C) as Ancillary Data (2013). American Journal of Enology and Viticulture. 64 (3) 307-315. 10.5344/ajev.2013.12125.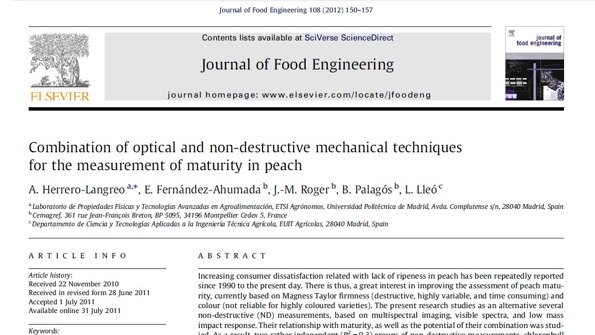 SC.4_Postharvest: Combining non-destructive sensors
Herrero-Langreo A., Fern·ndez-Ahumada E., Roger J.M., PalagÛs B., LleÛ L. (2012). Combination of Optical and Non-destructive Mechanical Techniques for the Measurement of Maturity in Peach, Journal of Food Engineering, 108 (1), 150-157, 10.1016/j.jfoodeng.2011.07.004..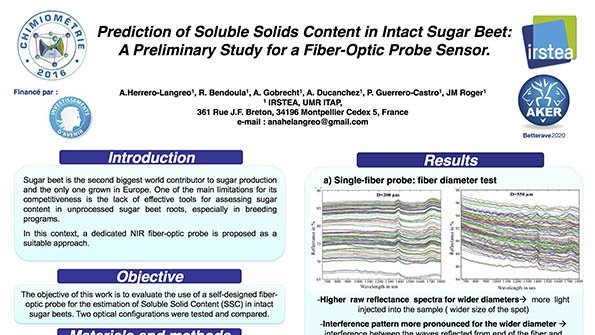 CP.24_Spectroscopy: Sensor Development
Herrero-Langreo A., Bendoula R., Gobrecht A., Ducanchez A., Guerrero-Castro P., Roger J.M., Prediction of Soluble Solids Content in Intact Sugar Beet: a Preliminary Study for a Fiber-optic Probe Sensor. Chimiometrie XVII, 17-20 Jan. 2016. Namur (Belgique)..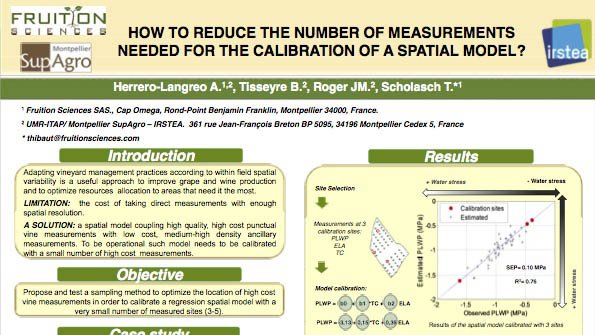 CP.19_Viticulture: Sampling
Herrero-Langreo A. , Tisseyre B. , Roger J.M. , Scholasch T. How to Sample to Calibrate a Spatial Model: Application for Modeling Vine Water Status. IX International Terroir Congress, 25 - 29 Jun. 2012. Dijon (France).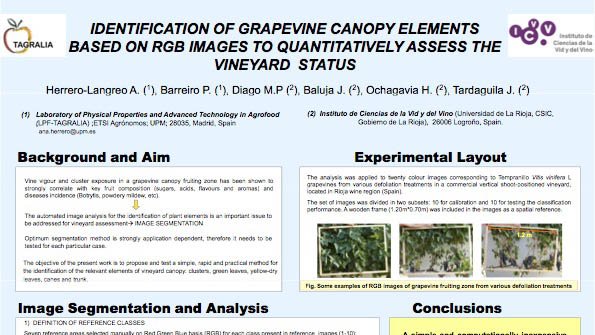 CP.13_Viticulture: RGB imaging
Herrero-Langreo A., Barreiro P., Diago M.P., Baluja J., Ochagavia H., Tardaguila J. Pixel Classification through Mahalanobis Distance for Identification of Grapevine Canopy Elements on RGB Images. International Association for Spectral Imaging Conference (IASIM-10), 18 - 19 Nov. 2010. Dublin (Ireland)..
Publications
See my publications
During the last 10 years I have published in Multivariate Data Analysis applied to Food Quality Assessment, Viticulture and Precision Agriculture.
EDUCATION
PhD studies
• 2006-2010
ETSIA-UPM. Rural Engineering Program. Public lecture held on June 25th 2010. Thesis title: "Spectral Machine Vision for Peach Ripeness Assessment " (in English). Thesis Supervisor: Lourdes Lléo García.
Agronomy Engineering Degree
• 1998 - 2005
Plant science and production; ETSIA-UPM. Exchange student in the Socrates-Erasmus Program at Ghent University, Belgium (2003-2004). Leonardo grant for training at EMR on the Raspberry Breeding program (May- July 2005).
TECHNICAL SKILLS
SCIENTIFIC SKILLS
Adapted and Rigorous Communication of Complex Information
Inter-personal and Team Working Skills
Critical Thinking
Self-Learner and Self-Motivated
International Scientific Network
AREAS OF EXPERTISE
Plant Physiology and Agricultural Practices
Postharvest
Precision Agriculture
Modelling and Multivariate Data Analysis
Near Infrared Spectral Analysis
Image Analysis (Spectral and Colour)
LANGUAGES
Spanish
Native •
Scientific writing, storytelling, poetry and story writer.
English
Proficiency Level (C2) •
PhD thesis written in English. Full professional proficiency. Working language since 2005.
French
Advanced Level (C1) •
Fluent in spoken and written language. Working language since 2010.
INFORMATICS SKILLS
Multivariate Analysis Sofware
Being usually the link between experts on different disciplines, I have consistently been responsible of programming the mathematical solutions required for my research work. As a result, I am a confident user of MatLab, which I started using in 2005. Since then, I have developed my own toolboxes for sampling, modelling and image analysis. Furthermore, I am currently starting to work with R and transferring some of these toolboxes to this software.
Geographic Information Systems
Regarding Geographic Information Systems, I handled QGIS and 3DField for the visualization of spatial measurements and estimations during my postdoctoral experience at the company Fruition Sciences.
Image Analysis
I am familiar with image processing and analysis sofware ImageJ, which I used as a didactic tool for introducing students to image analysis methods.
Others
I am also a competent user of bibliography managers, particularly Endnote and Mendeley as well as MS Office tools (Excel, including macro programming, Word and Power Point), and Paint Shop Pro.
Contact Form
Send me a message and I will get in touch with you shortly !